JALAS® Exalter Shoe Collection
Perform at the top of your game.
Introducing the new JALAS ® Exalter collection safety shoes
JALAS ® EXALTER safety shoes have been engineered for your longest, most demanding workdays. For environments and jobs that require superior protective features, and the very best ergonomics and comfort.

JALAS ® Exalter safety shoes have been loved and trusted for years. The new models feature an updated look and feel and enhanced breathability.

ENHANCED BREATHABILITY
Innovative mesh-covered ventilation slots and breathable polyester lining ensure great breathability to keep the foot dry, cool and comfortable all day long. The mesh prevents debris from entering the shoe. (Models S1P)
NEW SOCK-LIKE CONSTRUCTION
Sock-like construction makes the shoes softer, more breathable and easy to put on and take off. (Low-cut models)
UPDATED ALL-DAY COMFORT AND ERGONOMICS
The midsole and JALAS FX3 Supreme multilayer insole provide ultimate comfort and ergonomics. Poron ® XRD ™ shock-absorption prevents injuries to foot and back.
SAFE AND HIGH GRIP OUTSOLE
High-grip Vibram ® Nitrile rubber outsole features superior rip to ensure excellent performance in a wide range of activities.
PROVEN SAFETY FEATURES
Proven industry-standard protection with an aluminum toe cap to protect from impact, and non-metal PTC nail protection inserts to protect from sharp objects on the ground.
ENHANCED SUPPORT & DURABILITY
Microfiber upper and enhanced protection at the toe provide additional support and shield from abrasion to extend the life time of the shoe.
BOA ® FIT SYSTEM ON THE SIDE
Boa ® Fit System makes it quick and easy to get ready for work. Easy, one-handed lace tension provides custom comfort and smooth, even
closure without pressure points.
THE JALAS ® FX3 SUPREME INSOLE
The JALAS ® FX3 Supreme insole has been engineered in 6 layers for ultimate ergonomics and comfort:
TEXTILE LAYER
NEO FOAM LAYER protects the entire foot area from impact
SOFT EVA BASE LAYER provides structure, stability and comfort
HARD EVA LAYER maintains the insole's shape and functionality
and provides support and stability
PORON ® XRD ™, a high-tech material that absorbs up to 95%
of impact energy.
SHANK PIECE enhances shoe stability.

VIBRAM ® NITRILE RUBBER OUTSOLE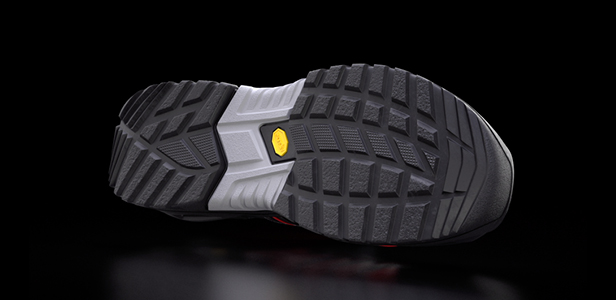 The high-grip Vibram ® Nitrile rubber outsole features superior grip to ensure
excellent performance in a wide range of activities.
Stabilising arch support provides support and a secure grip on ladders.
Enhanced back portion designed to maximize heel support and improve
shock absorption.
Superior grip and slip-resistance thanks to surface patterns and large
contact area.
Heat and oil resistant and protects from ESD/antistatic.
Sei interessato alle JALAS Exalter?
Contatta il tuo rappresentante di vendita locale.
Contatto commerciale
Dove posso comprare le JALAS Exalter?
Utilizza la nostra funzione "Trova un punto vendita" per localizzare il rivenditore di scarpe JALAS più vicino a te.
Vai alla mappa