EN Standards Safety Shoes
All safety footwear in Ejendals product range complies with the applicable standards and norms for worker safety in a range of trades and industries.
All the safety and occupational footwear in our product range comply with EN standards and applicable norms for worker safety within various professional fields. The various EN standards are based on the PPE Regulation (EU) 2016/425.
The table below shows the various protection classes. There are also a number of additional tests – see the fact box for examples.

SAFETY FOOTWEAR
TABLE ACCORDING TO STANDARD EN ISO 20345:2011

OCCUPATIONAL FOOTWEAR
TABLE ACCORDING TO STANDARD EN ISO 20347:2012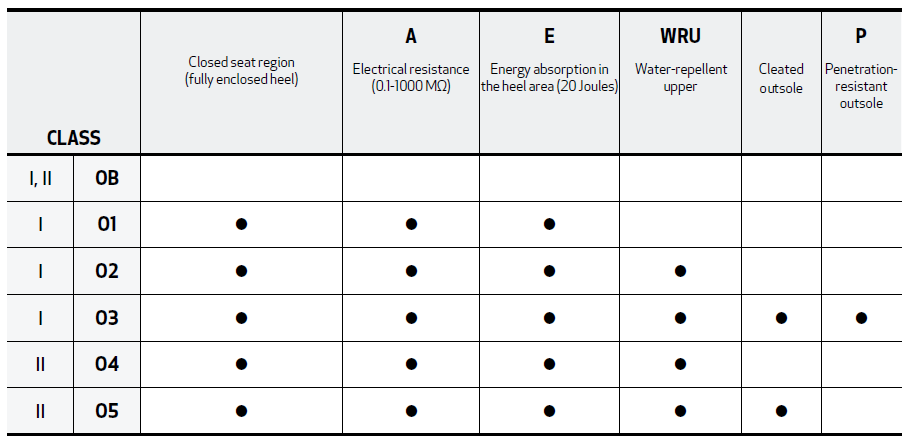 EXPLANATION OF ABBREVIATIONS
S: Shoes marked S have toecaps which will withstand 200 J of impact energy and 15 kN of pressure.



O: Shoes marked with an O are not equipped with a protective steel toecap but meet the basic requirements for work shoes.



Class I: Footwear made from leather and other materials, excluding allrubber or all-polymeric footwear.



Class II: All-rubber (i.e., entirely vulcanised) or all-polymeric (i.e. entirely moulded) footwear.



P: Penetration-resistant outsole.



HRO: Heat-resistant outsole compound tested at 300°C.



WR: Water-resistant footwear.



WRU: Water-repellent upper.



CI: Cold insulation.



HI: Heat insulation.



HI3: Heat insulation performance level 3.



Type 2: All fire suppression and rescue interventions where protection against penetration, and toe protection are needed, no protection against chemical hazards.



ESD: Electrostatic Discharge.



ESD IEC 61340-5-1: Electrostatic Discharge resistance below 35 MΩ.



SRA: Slip-resistance on ceramic tile floor with Sodium lauryl sulphate solution.



SRB: Slip-resistance on steel floor with glycerol.



SRC: SRA + SRB.



FO: Oil-resistant outsole.


A: Electrical resistance (0.1-1000 MΩ).



E: Energy absorption in the heel area (20 Joules).