Lining
Lining keeps your feet comfortable and protected
TEBOX/DRILEX ® - Durable, moisture absorbent and ventilating lining material made from polyester and polyamid to create optimal climate for the feet.
MICROFIBRE - Material of textile that provides good abrasion resistance and comfortable softness for the feet.
ABSOLUTE ALUMINIA - Warms efficiently by keeping the body temperature generated by feet inside the shoe whilst reflecting cold away from the foot and allowing any moisture to escape.

TECHNICAL FLEECE - A micro-thin, soft and durable lining that retains body heat and maintains warmth. The fabric absorbs moisture in the shoe to keep feet dry, while the air circulates through fibres for breathability. Ideal for high activity function.
SYNTHETIC FUR - A soft, warm lining in a mix of wool and synthetic fibre to promote warmth and absorb moisture. Boasts excellent abrasion resistance and durability. Ideal for the coldest times of the year.
THINSULATE ™ - Thermal insulation material gives optimal warmth against cold. The material breathes and stabilises the temperature inside the shoe while wicking away moisture in order to keep feet dry.
BIOCERAMIC FUR - Insulates against extreme cold. Good heat control material – the heat energy inside the shoe is recycled. Improves blood circulation. Carries away moisture.
MEMBRANE + laminate - Membrane and laminate with water-repellent and ventilating properties.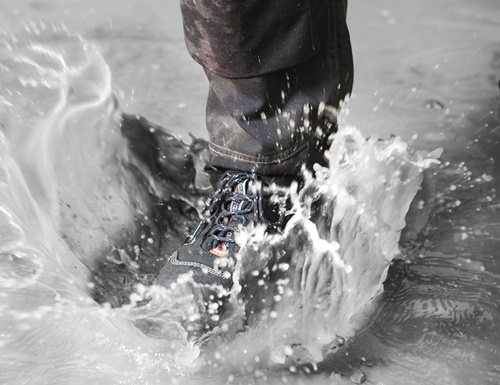 DRYLOCK - Waterproof, breathable membrane from JALAS ®. Sealed seams that keep your feet warm and dry.
WATER-REPELLENT - Leather and/or textile with a membrane or coating to promote water-repellent qualities whilst remaining breathable.
RESPIRO - Respiro is the name of a JALAS ® collection equipped with an ultra-high breathable three-layer laminate fitted into the outsole (provided by IQTEX based on patented technologies). The laminate has an ultra-high air permeability, yet it is also waterproof. This behaviour is made possible by the superabsorbent polymers in the laminate, which swell in contact with water thereby sealing the cavities within. The physical properties within the laminate change according to the environment. In dry conditions there is plenty of space for air to pass through. In wet conditions the superabsorbent polymers swell and close up the material. The ultra-high breathability of the laminate removes water vapour, and the well-being remains even at intense activity or higher temperatures.
IMPACT PROTECTION

D30 ® - An intelligent impact-absorbing material that doesn't collapse when exposed to external force. The molecular net structure efficiently distributes the force to the sides. D30 ® can be used both in extreme cold and in high temperatures.
PORON ® XRD ® - A material which is very soft and comfortable, with unique shock absorption properties.
Learn more about PORON ® XRD ®.
NEO FOAM - Excellent shock absorption properties with added comfort and softness.
TOE WEAR PROTECTION

SAFETY TOECAPS - All safety toecaps comply with EN ISO 20345:2011.
The requirements are as follows:
• Impact energy of 200 Joules
• Compression of 15,000 Newtons
PRONOSE - Extra PU wear protection across the toecap prolongs the shoe's life. Found with a few exceptions in shoes of protection class S1P and S3.

ALUMINIUM - Weighs only about 50 grams. The shoe becomes lighter and the centre of gravity is moved backwards, improving balance and reducing strain on the shin muscles. Found in most JALAS ® shoe models.
STEEL - Found in some of JALAS ® safety footwear models. Highly durable toe-cap with slim design.
COMPOSITE - Metal-free toe-cap with low weight. Similar properties as aluminium.
NAIL PROTECTION
All nail protection conforms to EN ISO 20345:2011. The requirement is that shoes must withstand penetration of 1.1 kN from a nail measuring 4.5 mm in diameter.
STAINLESS STEEL
In this context, a nail protection material that prevents nails and other sharp objects from penetrating the sole of the shoe, providing increased safety.
SOFT PLASMA-TREATED TEXTILE (PTC)
Penetration protection made from a plasma-treated composite material, which is soft, flexible and metal-free. It provides great coverage area in a shoe sole. Prevents nails and other sharp objects from penetrating the shoe.