Hand Ergonomics
The thinnest possible materials, the correct shape, manufacturing methods, dexterity, finger sensitivity, grip and adaptability are basic requirements on modern protective gloves.
ERGONOMIC WORK GLOVES - TIPS AND FACTS
Our hands are indispensable for everyday function in our lives and hand injuries can cause life-changing issues. As well as medical and social, they can also economically impact both you as the injured worker and your company. Save everyone the pain, trouble and money – invest in high quality hand protection now and prevent injuries in the future.
THE HAND – YOUR MOST IMPORTANT TOOL
As well as being one of the most important tools for everyday use, the hand is also one of our most complex and refined antennae within our surrounding environment. Heat, cold, pain, pressure and friction are just a few of the many signals the hand sends to the brain every time we touch or hold something.
GOOD GRIP AND THE CORRECT WORKING CONDITIONS ARE VITAL FOR THE HAND
A good, comfortable grip is paramount in so many occupations. When lifting, the angle of the wrist plays an important role in working safely and determines how long someone can carry out their job without suffering fatigue or risking long-term injuries.
REPEATED HIGH LOADING WITH BENT WRISTS ARE THE HANDS WORST ENEMY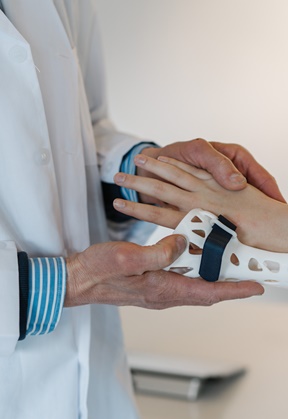 Nerves are sensitive to stress and prolonged excessive external load can cause both impaired hand function and long-term medical problems. If your nerves are exposed to blows or heavy pressure, they can react with pins and needles, numbness and pain, which can eventually lead to impaired function and paralysis.
The most vulnerable nerve in the hand sits where the palm of the hand meets the wrist. This can be easily damaged if exposed to powerful or repeated shocks.
Tendons are particularly durable because they are housed in "tubes", or tendon sheaths, where they are lubricated by synovial fluid. This protection can be damaged by sharp edges and high pressure on the hand. Arteries exposed to high pressure can sometimes react with intense pain. Veins are relatively insensitive, but prolonged high pressure can cause blood clots. The middle of the palm is protected against high loads by a connective tissue membrane. Repeated, very high loading of the membrane can cause it to rupture, which is often extremely painful.

HAVE A LOOK AT YOUR PROTECTIVE EQUIPMENT AND WORK ENVIRONMENT
As well as the personal suffering, it is estimated that workplace injuries cost society hundreds of millions of dollars every year - especially if it affects your ability to use your hands. Research shows that most people who suffer from hand injuries feel reasonably well one year after the accident, but a third still think that their life situation has worsened, even though they are no longer on sick leave. Research also shows that many hand injuries suffer from both long-term pain and stress symptoms that can lead to health problems later in life.
THE MODERN WORK GLOVE
Traditionally, work gloves were sometimes seen as an obstacle at work. Modern protective gloves are the result of extensive research, and new materials and construction technology. This has resulted in mobility and hand sensitivity being at the center of glove design whilst creating significantly higher safety standards to protect the fingers, hand and wrist.
GOOD ERGONOMICS
Today's focus on ergonomic thinking has led to many advances in hand protection technology. In addition to hand and skin protection, it's also a question of how the glove can best help the hand perform its tasks. The thinnest possible materials, the correct shape, manufacturing methods, dexterity, finger sensitivity, grip and adaptability are basic requirements on modern protective gloves.
INCREASED SAFETY
Synthetic materials are both elastic and have good resistance against abrasion, pressure and sharp edges, meaning it's possible to make the gloves thinner and more flexible whilst improving safety. The materials are also easier to sew and process, which provides completely new opportunities for glove manufacture and design, as well as fit and comfort. The result is gloves that are safer, easier to use, more comfortable to wear and much more functional.
CHOOSING THE RIGHT PROTECTIVE GLOVE
Your hands need protection - it's that simple. Therefore, choose a glove that fits your hand and is suitable for the tasks and your work environment. The right size, fit, mobility and finger-feel are important qualities for both safety and work results. Leather, fabric, knitwear, rubber or synthetic? Gloves with cuffs, collar gloves, thumb gloves or gloves? There are hundreds of varieties to choose from. The materials in modern protective gloves is consistently of very high quality and meets current safety standards by a significant margin; same for construction. Different gloves are made to protect against different risks, because a glove that protects against everything would be unreasonably large and clumsy.
To find the right protective glove for you, please click here, and then use our search filters.